Best Time and Day to Host a Webinar (according to research)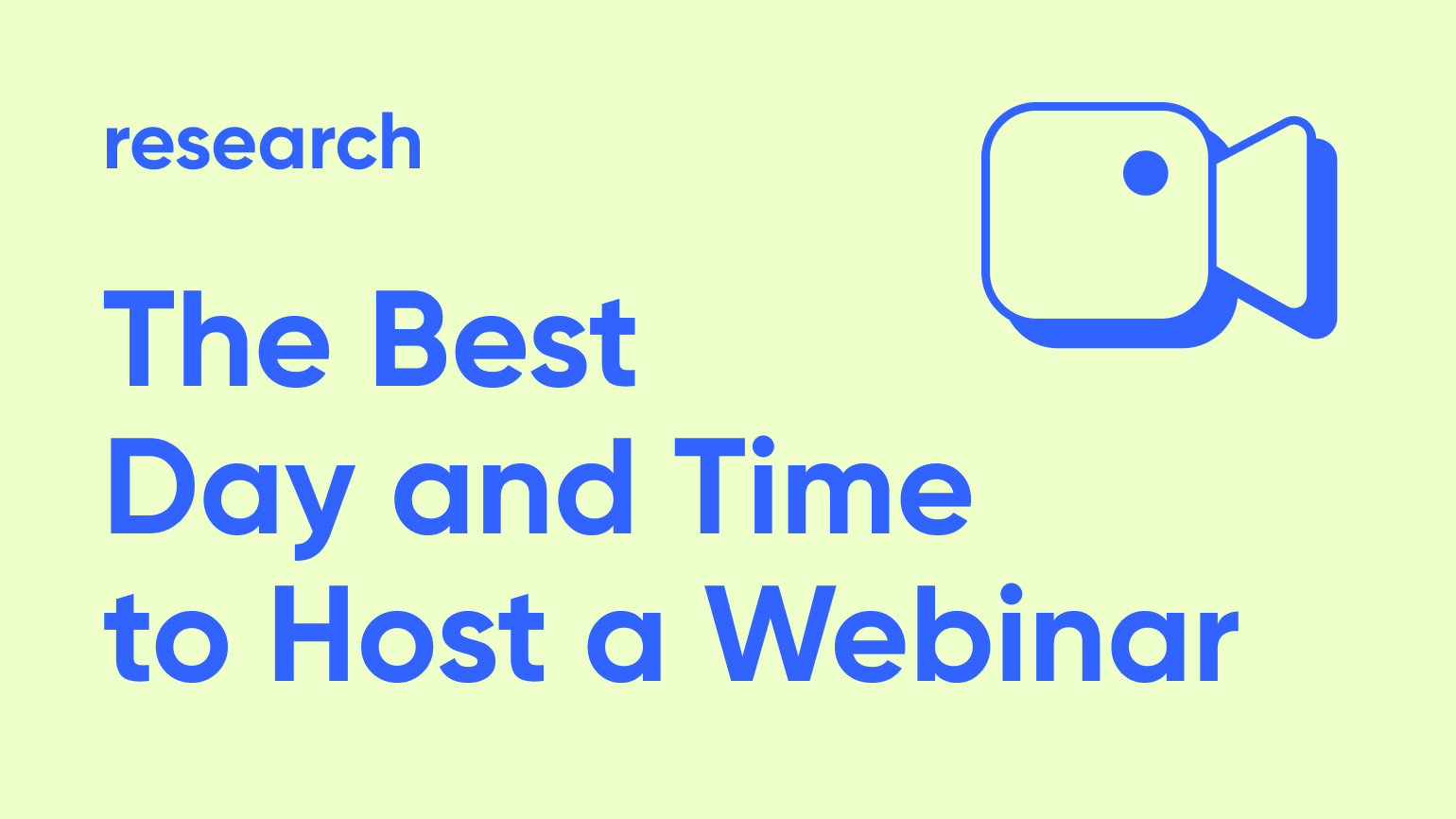 When organizing a webinar, your main goal is to get as many people to attend as possible. Yes, the quality of your content and your webinar promotion plan is important and plays the biggest role. But choosing the right date and time is also essential.
We'll cover how to select the best day and time to host your webinar to maximize attendance rates (backed by research from 1000s of datapoints).
We'll also introduce you to alternative ways to increase attendance rates, notably by providing a modern on-demand experience like Contrast does, helping customers get +50% of views on their content with a Netflix-like webinar hub. Sign up for free to create your own webinar hub in minutes.
Is there a best day and time to host a webinar?
The basic answer: yes.
But this doesn't mean that all your webinars have to be the same day of the week, at the same time. This would actually have a negative effect if everyone were to do this.
However, when selecting the day and time to host your webinar, you need to take into account more than just the results of the research. Your audience might be spread across different timezones, have specific availabilities or preferences, work hours, commitments, or other criteria. Knowing your audience and testing is always the best way to find out what works best for you.
Why selecting the best time to host a webinar is important
The time you decide to host your webinar will impact 3 main metrics:
1. Attendance rate
Hosting a webinar at 3am? Most likely, no one will show up.
Timing your webinar well can have a positive impact on the number of attendees, a key factor for any webinar looking to generate leads or build trust with a live audience.
2. Engagement level
End of day? People are getting tired and are going to be more passive: less likely to engage with your content.
Pick a moment when your audience is available (mentally and physically) and alert. They will be more likely to answer polls, send messages in chat, ask questions to the speakers, and in general be more engages.
3. Conversion rate
Higher attendance rates and engagement levels often lead to higher conversion rates (because you can get more information across to the attendees). This in turn leads to more sales, signups, or subscriptions for your product or service.
What's the best day to host a webinar?
The research is in.
Wednesday or Thursday is the best day of the week to host a live webinar. Tuesday comes in close second.
These results come from a study led by GoToWebinar that analyzed over 250 000 webinars. It showed that the three days in the middle of the week (Tuesday, Wednesday, and Thursday) make up 77% of all webinars and have (on average) the highest attendance rates.
Mondays and Fridays tend to have lower engagement and attendance rates, as people tend to be busy starting off or closing their week. Obviously, weekends are even worse.
What's the best time to host a webinar?
ON24 ran a similar study to GoToWebinar on 17 624 webinars and came to the conclusion that:
11AM to 2PM in the attendee's local timezone is the best time of the day to host a webinar.
Your audience is likely spread across multiple timezones, so taking this into account is key when selecting the best moment to host your webinar. 2PM in the United States will be at least 8PM in Europe – making it highly unlikely that anyone will attend.
These suggestions are for B2B webinars specifically so concentrate on work hours. In B2C you could consider times in the evening or on weekends to reach a higher proportion of your target audience.
What's the best time to host a global webinar?
There is no best time to host a global webinar.
It will always be "the wrong time of day" for someone in your audience. It's best to try to segment your webinars by geography (and also by language) to increase the probability that different members of your audience will be able to join.
Some tools such as Contrast allow you to have different webinar hubs (Channels) for different regions/languages. Making it easy for specific segments of your audience to find the right content for them, without it being diluted.
The new way to run webinars.
Start free with up to 50 registrants.
No credit card needed.
Sign up now
How to maximize your webinar views with on-demand content and repurposing
Let's face it. There will never be a best time and day for you to host your webinar. No matter what you decide, some people just won't be able to make it. But there are other ways to make sure you get more eyes on your content.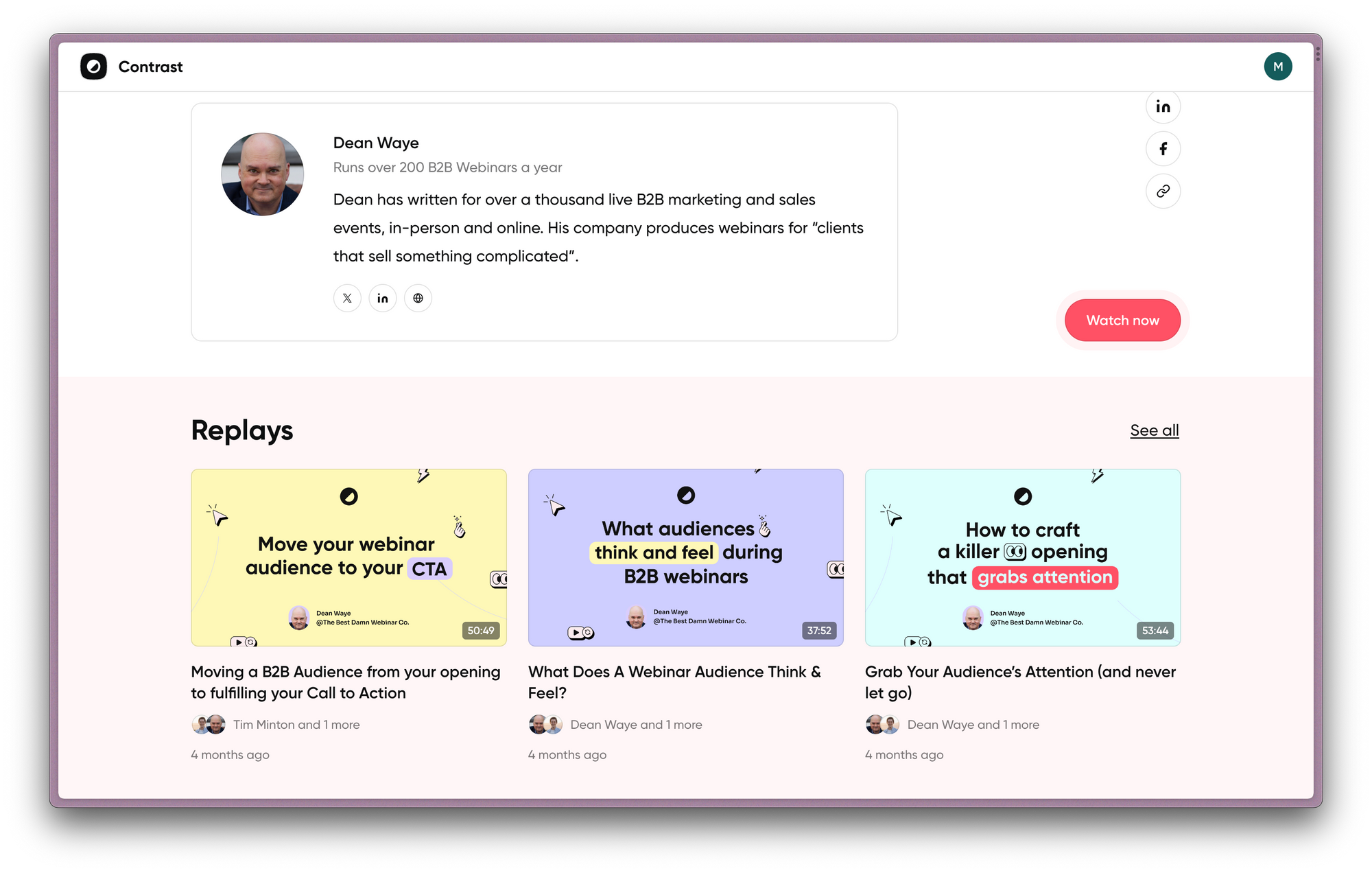 Automated webinars just don't cut it
Automated webinars just have something off about them. When people sign up to a webinar, they're expecting an authentic and real experience, not a pre-recorded sales pitch. "Faking" your webinars will give your audience the impression that you aren't putting enough effort into your webinars. They will lack genuine interactivity, will be exactly the same every time, and can be spotted from a mile away.
On-demand webinars, the modern way
At Contrast, we analyzed over 250 000 webinar participations and showed over 50% of views are on-demand. This makes a ton of sense when you think of everything we mentioned earlier in this article.
A few factors play into getting more on-demand views:
Automated follow-up emails that can be configured depending on if people showed up to the live or not. This helps you get the messaging right and create FOMO for those who didn't make it to the live.
Creating a modern webinar hub to make finding on-demand content not only easy, but fun. Contrast Channels are designed specifically for this: modern registration pages, suggestions... a Netflix-like experience for your content.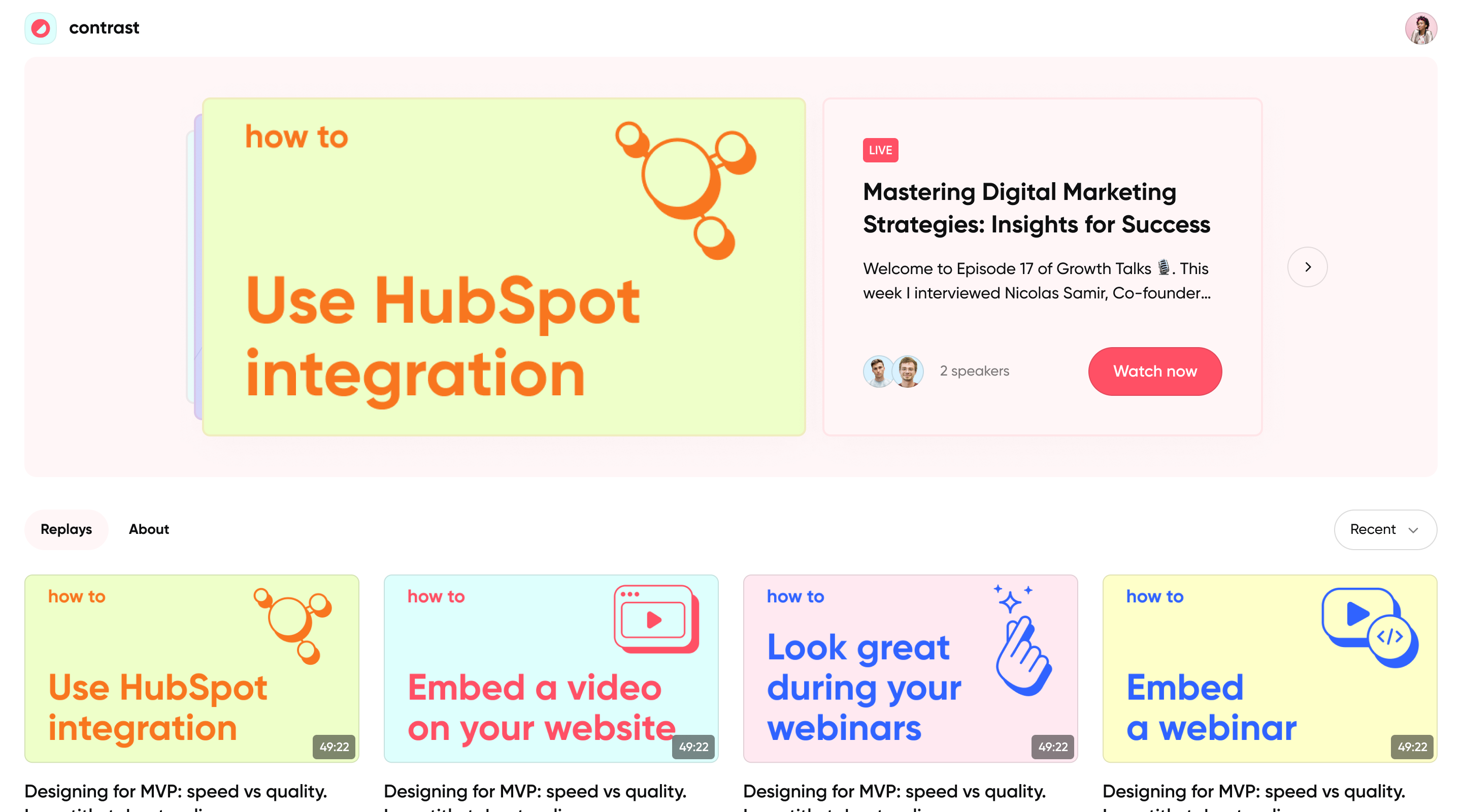 Reducing the friction to access replay content, making content accessible in just one click (and especially without having to fill out a form). Modern platforms offer a one-time-only signup process — making it frictionless to consume more content after the first signup.
Contrast offers all of these features and more. We offer a freemium plan so sign up today to create your own premium on-demand experience.
Repurposing webinars to drive more views
Once your live webinar is done, you can still squeeze a lot more value out of it. Here are 4 ways to repurpose a webinar:
Create a blog article from the transcript
You spent all this time coming up with a script and diving deep into this topic. Some webinar tools will allow you to export a transcript of the webinar, making it super easy to create a blog article. Make a few optimizations, format it a bit and you have some evergreen content you can start ranking on Google with.
Turn chat questions into content
During your webinar, your audience will be asking a lot of questions in chat. When your webinar is done, you can export all the chat questions into a CSV file and:
1) Follow-up with them directly
2) Look for most commonly asked questions and turn it into content — great for finding your audience's pain points
Publish short clips as social content
Your webinar is full of short clips that have a tremendous amount of value, moments where your speaker shared their experience, or answered a question very well during the Q&A session. These can be cut out and slightly edited to turn into viral social media content (LinkedIn, YouTube Shorts, Instagram, TikTok).
1 webinar can easily be turned into 5-10 short clips. Contrast makes it super easy to extract clips from a webinar and turn them into viral content.
Extract audio to make a podcast
You've already done all the work. Extract the audio file from your webinar (or series or webinars) and turn it into a podcast. Some people prefer audio content — they won't sit down and watch a webinar but they'll gladly listen to a 1-hour podcast on the topic.
3 bonus tips to maximize webinar attendance
To finish this article, we're going to cover some extra tips to help you maximize the attendance of your webinar (no matter what time or day you host it):
Promote early and often
Ideally, you should start promoting your webinar 6 weeks before the planned date. Mixing up different channels (invitation email, social, ads, etc.) will maximize the total amount of signups and postively impact attendance.
Incentives
People love getting a good deal. You can offer various types of incentives: exclusive content, discounts, giveaways, referral prizes, gifts, or more. This is a great way to get more people to sign up to your webinar.
Reminders
We recommend having (at least) 3 reminders for your webinar. 1 week before, 1 day before, and 5 minutes before going live. This will keep you top of mind for your audience and increase the probability that people show up to your live event — reducing no-show numbers.
If you're looking for a more detailed guide, we wrote a whole article on How to attract an audience to your webinar.
Conclusion
When choosing a time and day to host a live webinar, you need to keep in mind what the research shows, and combine it with the specific information you have about your audience.
However, you'll never be able to make everyone happy. So providing a high-quality on-demand experience is key to a successful webinar strategy. If providing a high quality experience is important to you, you should check out Contrast.