What is a Live Webinar and How to Host a Successful One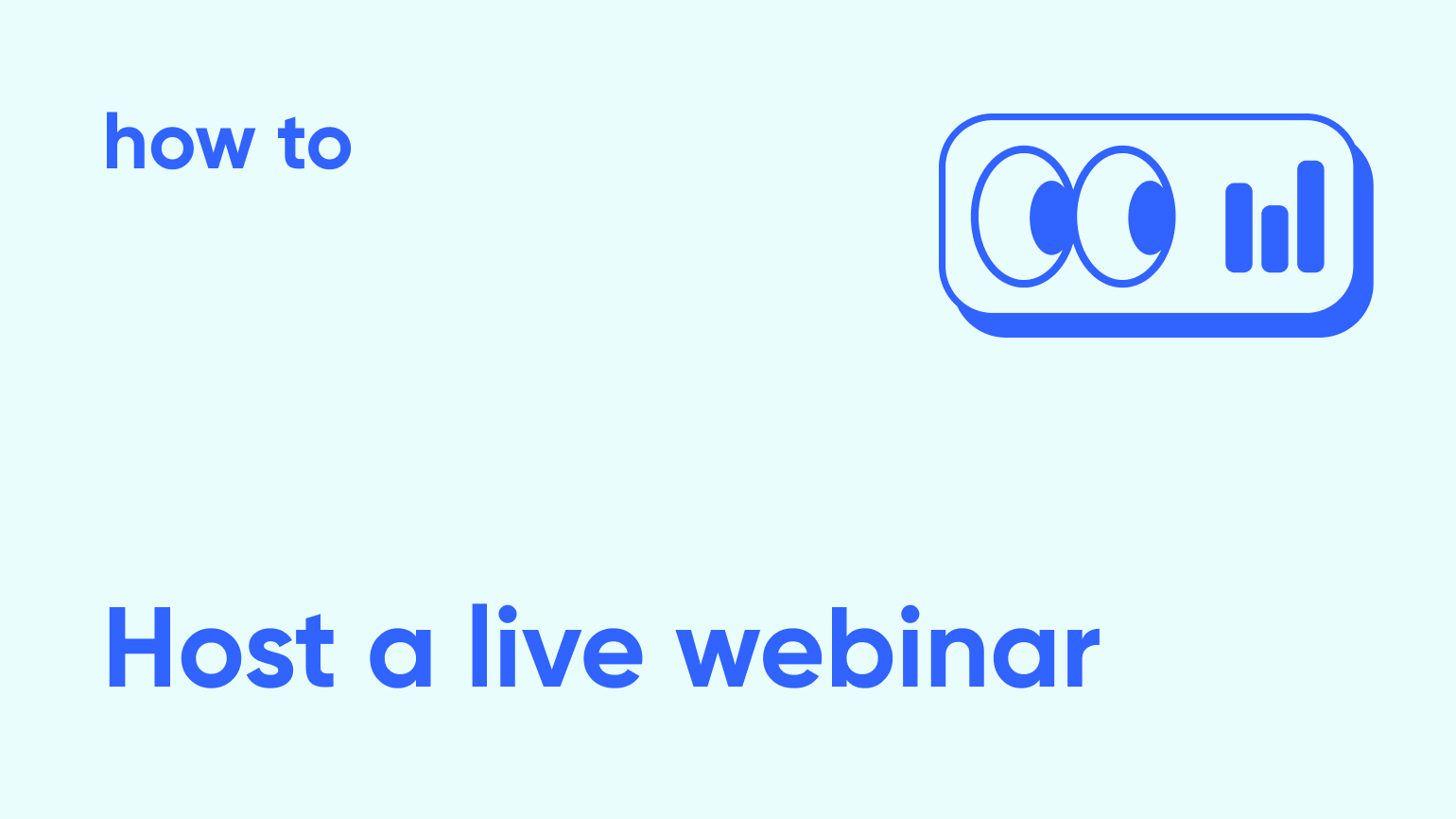 What is a live webinar?
A live webinar is a webinar format that takes place in real-time on the internet. Live webinar work with most types of webinars, such as a product demos, interviews or panel discussions.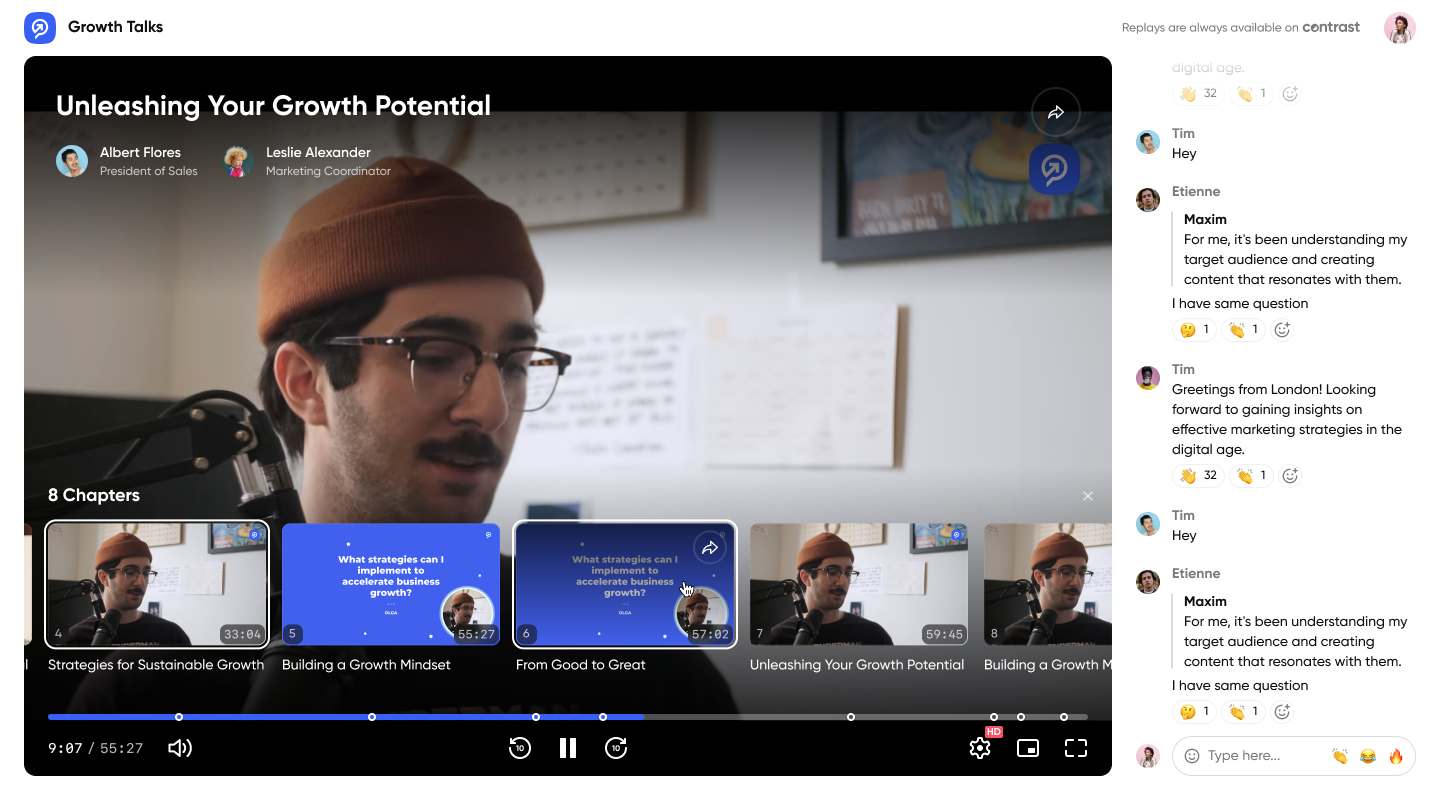 What is the difference between a live and on-demand webinar?
Where live webinars happen in real time, on-demand webinars can only be viewed once they're over. There exist different types of on-demand webinars, sometimes they are a recording of a live webinar, or simply a recording.
Another large difference is that it's not possible to interact during an on-demand webinar. It's largely confined to only watching the webinar. People might miss out on a part of the value of your webinar this way.
Why you should host live webinars
Live webinars are one of the webinar formats that people engage most in. It's the live component of the webinar that allows your audience to connect with you and your brand. On top of that, people will attend a live webinar as they see it as a unique opportunity to get access to information they would normally not have access to.
One of the most important things during a live webinar is the interaction between audience and the speakers. There are different types of interaction, but you probably know things like Chat, Poll and the famous last 15 minutes of a webinar that are spent on Q&A.
During a live webinar people expect to interact with you. If you don't deliver on this, your audience is likely to leave disappointed. So it is important to create and stimulate interaction during your webinar.
How to host a live webinar
Hosting a live webinar is easy with the right webinar platform. Of course, writing from Contrast we would recommend you to use Contrast. You can try the platform out with 50 viewers for free. You don't need to put in your credit card and you'll have access to all our features.
Now let's dive into the steps of hosting a great live webinar.
How to create a live webinar
Alright, start with the basics and choose a webinar platform that makes it easy to create and setup a webinar. You're looking for features like registration pages, automated emails and recordings.
Make sure that you have the logistics sorted out. These are things like a catchy webinar title, a good cover image and a description that pushes people to register to your webinar. Here you can learn more about writing great registration pages that help you convert people.
We love to invite external speakers to our webinars. Not only gives it your brand more authority when you hire the right one. You can also use their network to promote the webinar to.
How to promote a live webinar
Promoting a webinar is more art than science. It's important to start at understanding the webinar funnel. From here it becomes quite easy to work backwards and understand the pieces of the puzzle you need to fill in to make your webinar a success.
How to create engagement during a live webinar
For engagement, it's important that you choose the right webinar platform. Of course, most webinar platforms have features like Chat and Q&A these days. But it's also important how easy these are to use and what they look like.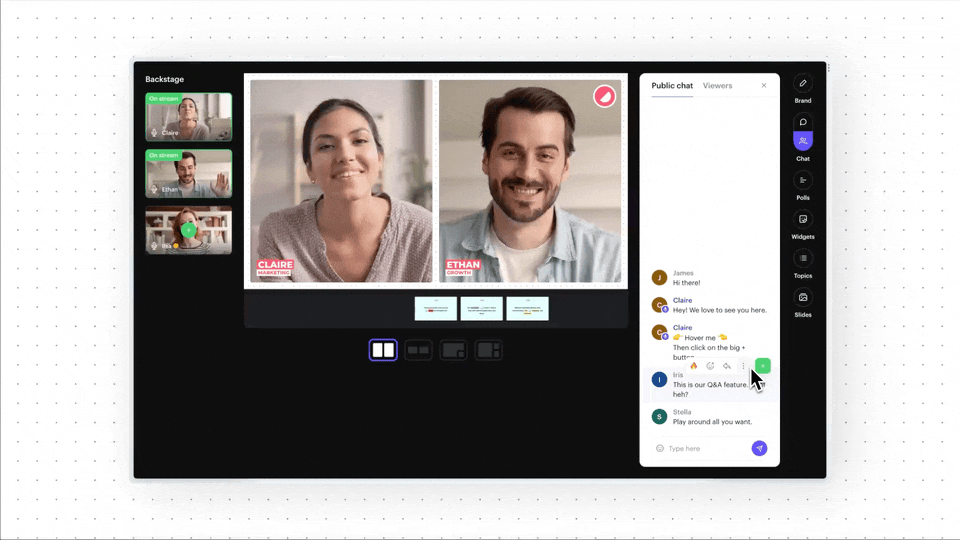 Because these factors will ultimately lead to higher engagement and participation during your webinar. And this is useful for you, because not only do people build a stronger connection with your brand and webinar content, it will also become a lot easier to do personalized outreach.
At Contrast, we love engagement. So much that we built our webinar platform specifically for it. You can learn more about creating engagement and interaction during your webinar here. If you're not interested in using Contrast (hey, it's okay we still love you) then we recommend you checking out our competitors.
How to analyze the results of a live webinar
Now that your live webinar is over you want to understand if it was a success. A good starting point is to look at how many people actually attended your live webinar vs. how many registered. If you've more than 35% of your registrants there during your live webinar, you did a great job. Just so you know, your attendance rate will depend a lot on the time and day you host your webinar.
Another useful metric to look at is the watch time. This gives you an idea if your audience watched your webinar until the end or if they stopped watching earlier. If you're hosting multiple webinars it's always a good practice to improve this number over time.
You can improve your webinars by looking at the most watched moments. This is a great feature that should help you understand what is the content people engage most with during your webinar. Look at the moments that peak with people watching to discover what people find most interesting.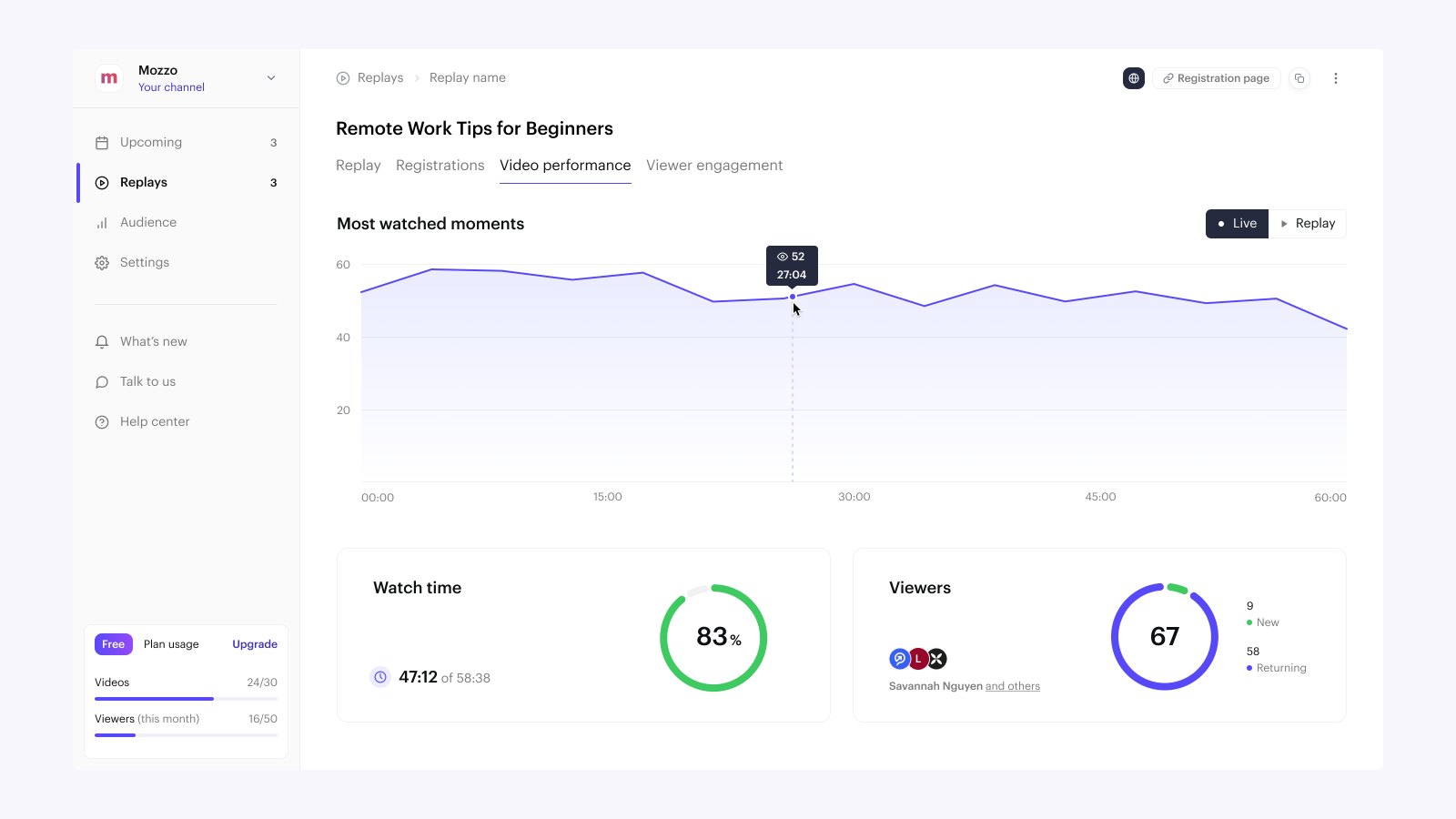 By the way, my colleague Tim wrote an excellent article on how to set the best KPIs for your webinar.
How to repurpose a live webinar
There is life after live. You spent all this effort on hosting your live webinar and now you have to start all over again? Nope, you don't. The best webinar platforms turn your live webinar automatically into a recording that's available on the same link as the live webinar. This way, your audience can easily find it back in case they missed it live. Of course, it also saves you quite a bit of time ;-)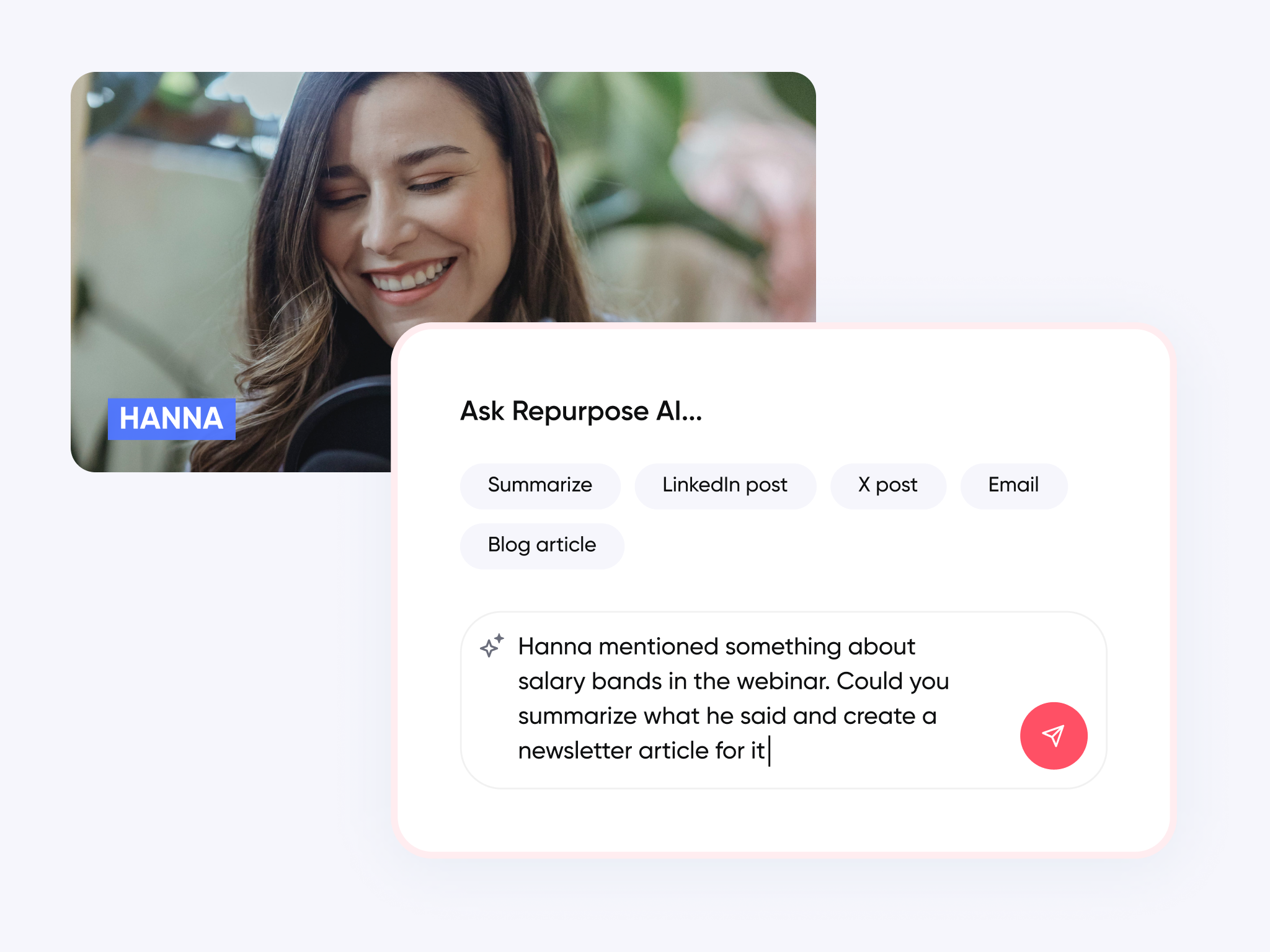 But the best webinar platforms go further than that. They have automated email sequences that send people the link to the recording in case they missed it. They generate transcripts so that you can use these to create a newsletter or blog article. And they help you create short videos from the webinar that you can then post on social media.
The recording of your webinar is a content machine if you know how to use it right.
The best tips to host a successful live webinar
Communicate that your webinar will be live, because people tune in so that they can interact with you and your speakers,
Don't focus on just the interaction between you and your audience. Think about ways of getting the audience to interact with each other.
Besides great speakers, make sure you have a host that can manage the chat and helps creating engagement,
Engagement is everything during live webinars. It connects people to you and your brand and generates information that you can later use in the webinar follow up,
Choose a webinar platform that helps you create great live experiences for your audience. Make sure that the platform looks modern and is easy to use for your viewers.
Live webinar FAQ
What is a live webinar?
A live webinar is a webinar format that takes place in real-time on the internet. It can be any type of webinar, such as a product demo, interview or panel discussion.
How do I host a live webinar?
There are multiple steps involved when hosting a live webinar. We recommend you to start with our complete guide and checklist on how to set up a webinar.
Where can I host a live webinar?
Contrast is a great webinar platform to host webinar platforms on. The platform is easy to use so that you can build your webinar in a matter of minutes.
How do I create interaction during my webinar?
Start with understanding your audience and create content that reasonates with them. Use interaction features like Q&A, Polls and Engagement Widgets. You can find more top tips for creating interaction during your webinar here.
What is the best time and day to host a live webinar?
According to research Wednesdays or Thursdays are the best days to host your live webinar. On these days, it's best to schedule your webinar between 11:00am and 14:00pm. You can learn more here about the best time and day to host a webinar