Using Webinar Funnels to Generate Qualified Leads: A Complete Guide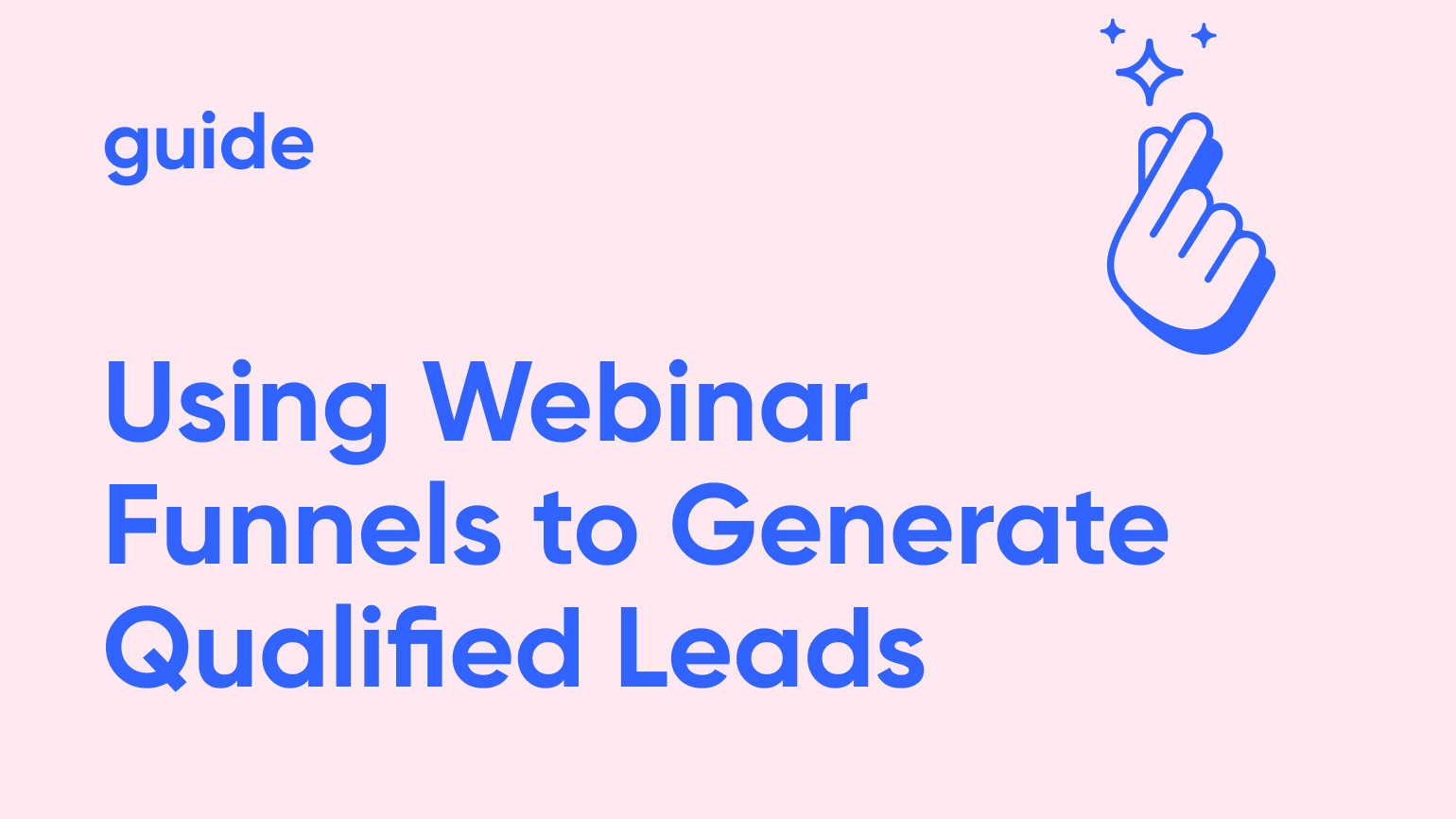 Webinar funnels are powerful tools for generating qualified leads that can turn into sales. 53% of marketers believe that webinars create the highest quality leads of any top-of-the-funnel channel. Hundreds of companies use our platform to host engaging webinars and we've seen first-hand how they build trust and credibility with audiences.
But to turn attendees into true sales-qualified leads, you need to plan out every step of your webinar funnel. Every stage of the customer journey needs to be considered and handled correctly. A funnel multiplies the benefits of one webinar and gives you leads a long time after the webinar ends. In this article, we're going deep into every aspect of webinar funnels.
By the end, you'll know exactly how to set one up for your business. If you already have a webinar funnel in place, the best practices and examples we share will help optimize your conversion rate.
Let's dive in!
What are Webinar Funnels?
So what is a webinar funnel? It is a sales funnel with a webinar as the first starting point in the customer journey.
Here's the simplest way to think about it:
"Companies host webinars in order to attract potential customers. The company provides some form of value in their webinar content, and in exchange, receives information like names and email addresses from attendees. The purpose of the webinar funnel is to eventually convert some of those attendees into customers."
Webinars work best when they are part of a larger webinar funnel. A funnel is a process to attract and move the potential audience through a series of steps towards an eventual purchase.
One of the most popular customer journey frameworks is the AIDA-model, which stands for Awareness, Interest, Desire, and Action. Even though it was first developed over 125 years ago its core principles apply to modern webinar funnels as well:
Awareness: Attracting potential leads by promoting your webinar on social media, emails, videos, and SEO.
Interest: Hosting an effective webinar to establish trust and engage attendees with content.
Desire: Address your audience's pain points. Present your products or services as solutions to their problems or needs. You can also offer special deals to encourage a purchase decision.
Action: Follow up with the attendees after the webinar. This might look like a thank you email, a request for feedback, or continuing to nurture leads by providing additional value.
Advantages of Using Webinar Funnels to Generate Qualified Leads
95% of marketers see webinars as an important part of their marketing efforts. That's because they have benefits that other channels like ads and blogs don't offer, like:
Real-Time Engagement: Webinars help you meet with potential customers in real time. 62% of webinar attendees request a demo.
Informative: Webinars allow attendees to learn something new in a way that's easy to digest. Companies that host webinars can also learn something new about their audience's interests and desires. Good webinars are interactive and use tools like Q&As. This helps to build relationships with the audience and to learn more about your target audience.
Engaging: Webinars can be engaging when done right. With the right tools, you can use polls, topics, threaded chats, and more to engage your audience. An engaged audience is more likely to stay tuned in throughout the event and be open to your call to action. After all, PWC found that 65% of U.S. customers value positive experiences over ads when deciding what to buy.
Build Trust and Credibility: A webinar helps you showcase your knowledge and insights to your target audience at a low cost. They help you build trust in your audience, making converting prospects into paying customers easier. If your company is a thought leader in the field, it can convert to revenue.
Benefits of Creating Webinar Funnels
A single webinar can generate leads, but its effectiveness is amplified when it's part of a larger marketing strategy. Webinars work best within a comprehensive approach that attracts, engages, and converts potential customers.
A well-defined webinar funnel has several advantages:
Increased Sales: Drive conversions and increase sales by addressing customer pain points.
Targeted Marketing: A well-defined webinar funnel allows for targeted marketing by understanding customer behavior at different stages. It allows you to tailor your marketing tactics to address specific preferences and pain points.
Iterate on your Funnel: If you track customers through each stage of the customer journey, you can pinpoint where they lose interest. Then you can adjust your funnel and content.
Increased Brand Awareness and Loyalty: You can increase brand awareness with funnel content. You can also improve retention, improve customer lifetime value, and customer satisfaction.
Stages of a Webinar Funnel
Your webinar funnel should guide customers through the stages of awareness, interest, decision, and action. But what does that look like tactically?
The following breakdown is an example of what a webinar funnel might look like. You can use it as a template but should adjust each step accordingly based on your company's unique needs and goals. :
Audience Research: When developing your webinar funnel strategy, it's crucial to understand your audience deeply. This involves figuring out who your buyers are, why they choose your product, and what challenges they face. You can gather this insight through methods like interviews and surveys.

Your team has probably already collected most of this information when building your overall marketing strategy. Use that information as a starting point when developing your webinar funnel. By doing so, your webinar strategy will be finely tuned to resonate with your target audience.

Define Your Goals: What is the purpose of your webinar? What does success look like? For example, if your goal is to enhance brand awareness, focus on storytelling and interactive sessions that create a memorable brand experience for attendees. If your goal is to generate sales qualified leads for your revenue team, then make that your core KPI and keep it in top of mind when making all other decisions.

Promotion: The next step is to build your webinar promotion plan. You can use social media platforms, paid ads, and email marketing to drive people to your registration page. If you have an existing mailing list, we wrote this guide to building the perfect webinar invitation email for you. It's also worth carving out some budget to use advertising platforms like Google, Meta, or LinkedIn.

Registration: The webinar registration page is the first point of contact with your website and the most important conversion point. It collects emails for the webinar and can help you build your email marketing list. Creating a targeted and informative page with a low-friction form helps to set expectations and boost attendance. You could also test out creating urgency by limiting the number of spaces in the webinar.
Thank You: When people sign up for your webinar, they're still in the interest stage. It's important to thank them for registering and confirm their registration. This is also a good time to build familiarity, increase their excitement, and offer more value. This might include:


A limited-time bonus offer that relates to your webinar topic and creates urgency.
Giving a testimonial or statistic that showcases the benefits of your webinar and/or product
Encourage actions like social sharing or adding the event to their calendars.


Post-registration email campaign: Once a visitor has registered, send them a confirmation email. This email should thank them for registering and give them the necessary details. This is an opportunity to keep your attendees engaged and create anticipation through a value chain. You can:


Share personal stories, and establish rapport.
Use short training videos, case studies, and testimonials to share with their colleagues.
Create a connection between the audience and the upcoming main event.


Host a Great Webinar: The core of your lead generation experience is the webinar itself. It needs to deliver on all the promises you've made. The goal is to give informative and engaging content that primes them for conversion. Do a dry run of the webinar to make sure you've ironed out any glitches. If you're looking for content ideas, check out these 11 webinar ideas.At this stage, your webinar platform is a crucial factor in conversion. While many offer basic tools, the best webinar platforms provide advanced features for engagement like threaded chats, custom layouts, widgets, themes, and more.
You can use a strong call-to-action (CTA) during or at the end of your webinar to drive conversions as well. This could be a verbal CTA from the host or a link.
Follow-Up: Follow up with attendees who didn't convert during the webinar with another email campaign. Send them a follow-up email, provide them with more value, and offer them another opportunity to convert. This can be done with a single follow-up email, or even better, a personalized email sequence. Here are some ways you can continue to provide value after the webinar:


Encore Webinar: Provide the recorded version of the original webinar, giving people who couldn't attend the first time a second chance. It's also a great opportunity for attendees to revisit interesting parts and share the link with their colleagues

Repurposed Content: Webinars are a goldmine for content because they're often longer pieces of content. However, only 20% of marketers are repurposing their webinar content. It is an easy way to maximize the reach of your webinars. You should have a plan in place for repurposing your webinars into blogs, social media clips, podcasts, and more.

Nurture Leads: Continue nurturing leads after the webinar. This can be done through a mixture of follow-up emails or even calls if you have that information. One good strategy for nurturing leads is sending existing content that is relevant to the webinar they attended. Don't forget to keep your original goal in mind though. Include a call-to-action in your follow-up emails to move leads towards the goal.


Analysis and Improvement: Analyzing the performance of your webinar funnel can improve your conversion rate. Most webinar tools have some analytics tools. But the best have deep analytics on video performance and engagement which are then integrated into your CRM for a full webinar funnel analysis.
Here's how Contrast's analytics can be integrated with a CRM like HubSpot:
Understanding Patterns: Contrast helps you figure out what your audience likes during webinars. For example, if a certain poll question grabs attention, you'll be able to pinpoint that and understand why.

Better Flow: With this knowledge, you can plan your webinars better. For example, you might realize that more people convert on your final call-to-action if it comes right after an engaging poll question.

Personalized Emails: Our HubSpot integration lets you segment attendees based on their engagement in the webinar. You could use this to send specific offers to active participants. For those who lost interest, you could try sending them a different piece of content to recapture their interest.

Getting Better: By using Contrast's analytics you can keep making your webinars better. Consider the analogy of a comedian testing out jokes for a standup routine. Keep the good ones and rework the moments that fall flat. This constant refining process is key to making your webinar funnel more successful.
Challenges and Solutions in Webinar Funnels
Creating high-converting and engaging webinar funnels is a learned skill. Your webinar funnel will improve with practice and experience. Some challenges you will likely witness include:
Technical Issues: You can mitigate these by doing a full rehearsal before the webinar. Some connection issues may still crop up, but planning is essential. So make sure to test your camera and mic, and go over your scripts beforehand.

Lack of Promotion: If people don't know about your webinar, attendance will naturally be low. To fix this, take an active role in promoting your event. Use social media, email campaigns, partnerships, and targeted ads to spread the word. Don't forget to send friendly reminder emails to those that have already registered.

Low Engagement: Doing all the work to get people into your webinar and then boring them with bad content is a wasted opportunity. Keep content interactive with fun polls and exciting visuals. Encourage questions, fostering lively discussions. Personalize interactions, making attendees feel valued and engaged.
Create a Free Webinar Funnel using Contrast
With Contrast, you can host webinars and build most steps in your webinar funnel for free. We'll show you exactly what that looks like below and you can try it out for yourself by creating a free account.
Host interactive webinars with Contrast
And turn leads into customers. Start free today.
Create a free account
Create an event and registration page: It's easy to build a registration page for your webinar with Contrast. All you need to do is enter the event details and speaker information. In less than 5 minutes you'll have a registration page that's optimized for conversion.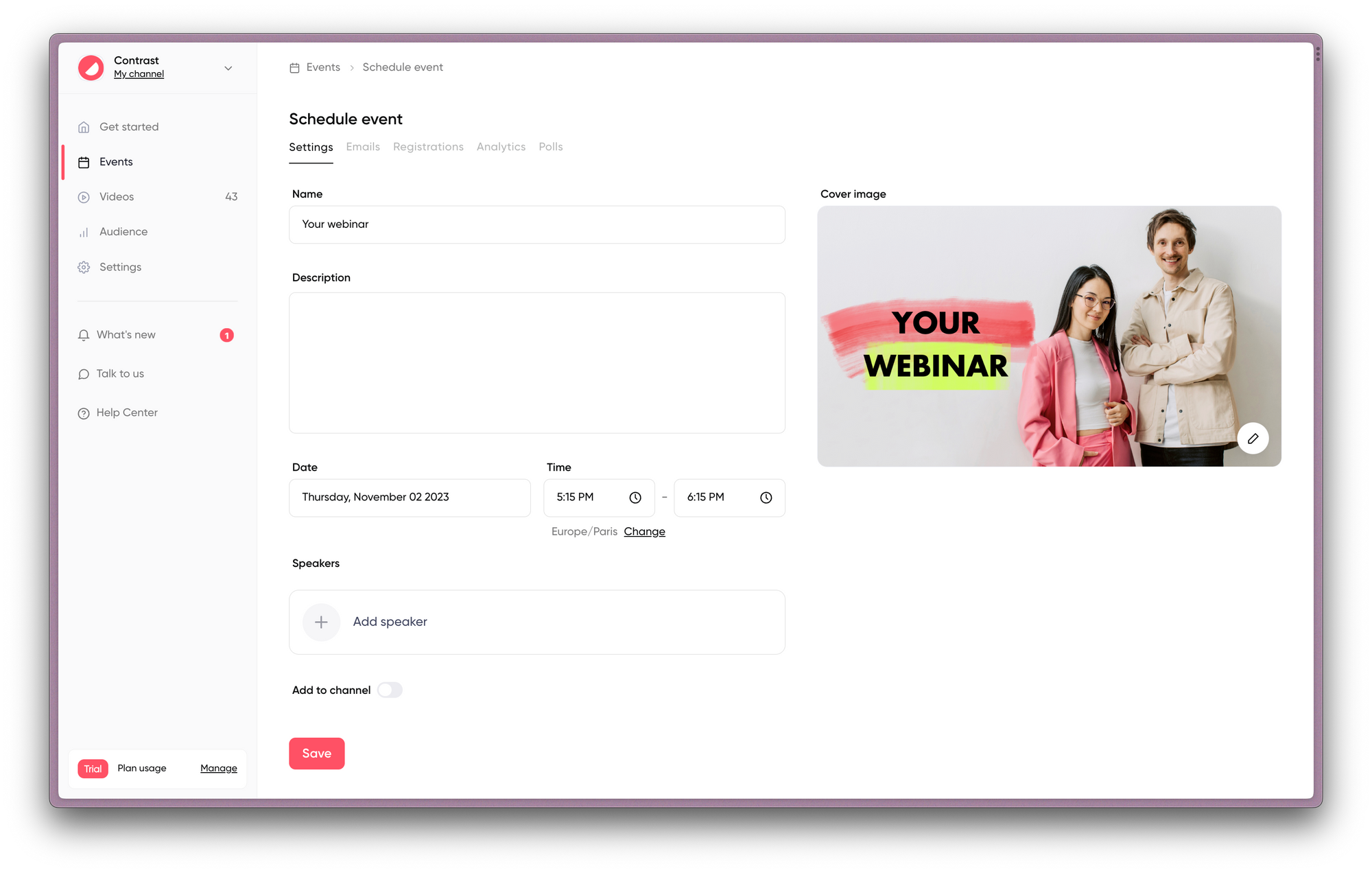 Our platform is easy to use and gives you lots of opportunities to customize the look and feel of the page to match your brand identity. Here's an example of a registration page for an evergreen webinar hosted by one of our customers, Userled.
Send emails: With Contrast you can personalize email invitations, reminders, and follow-ups. A lot of webinar platforms lock this feature behind their more expensive plans, but like most of our features, it's available in our free plan. We did that because we know it's such an important part of the webinar funnel.
Host the webinar: The platform's reliability and ease-of-use lets you focus on what's important - delivering engaging content. We built Contrast to focus on engagement and have packed it with features that keep attendees interested. Topic cards, polls, widgets, and unique layouts all help to make the attendee experience memorable.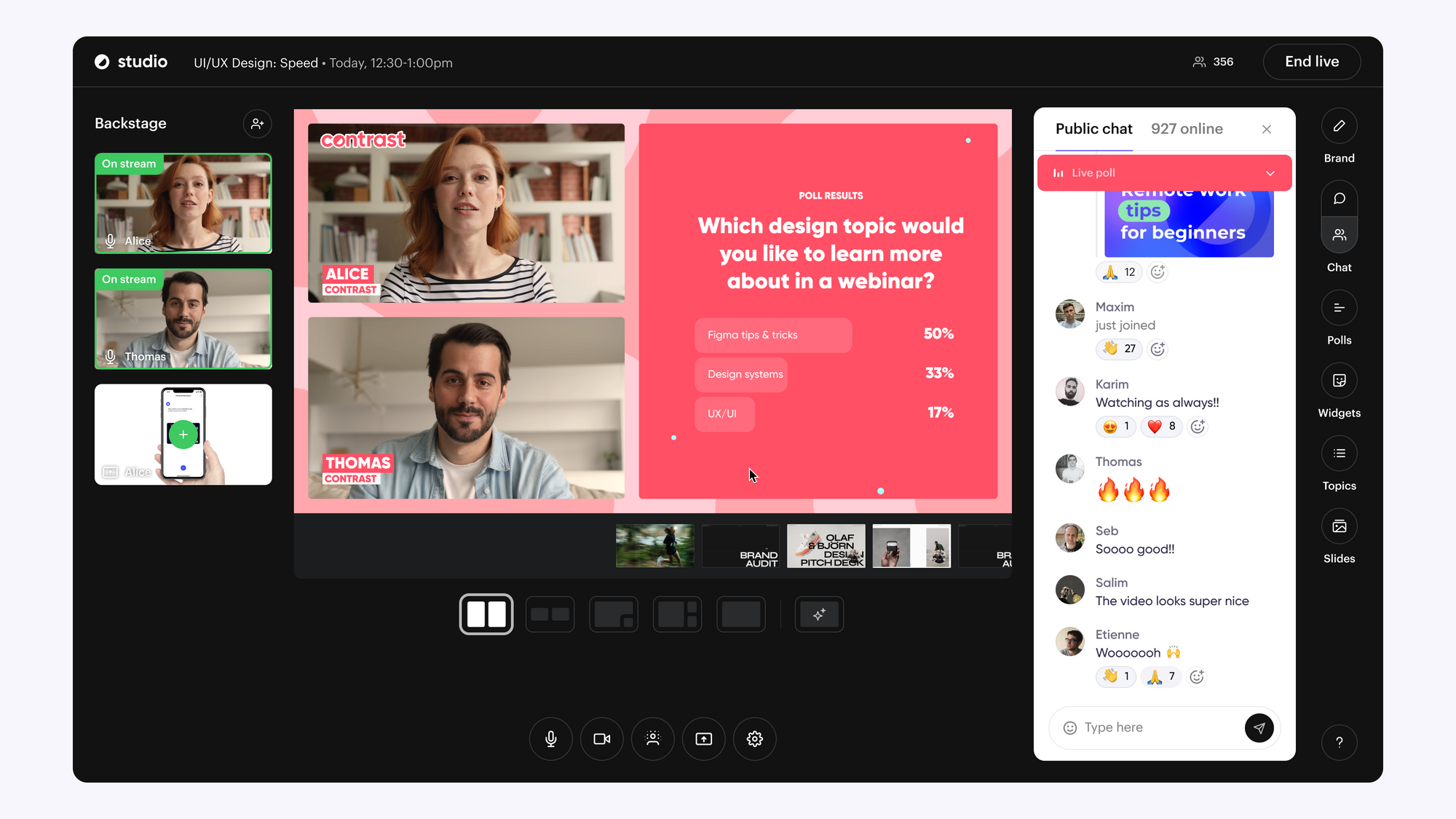 Analyze the results: Contrast provides in-depth analytics, offering valuable insights into attendee engagement. Understanding the audience's behavior helps to refine your strategies and content in future events.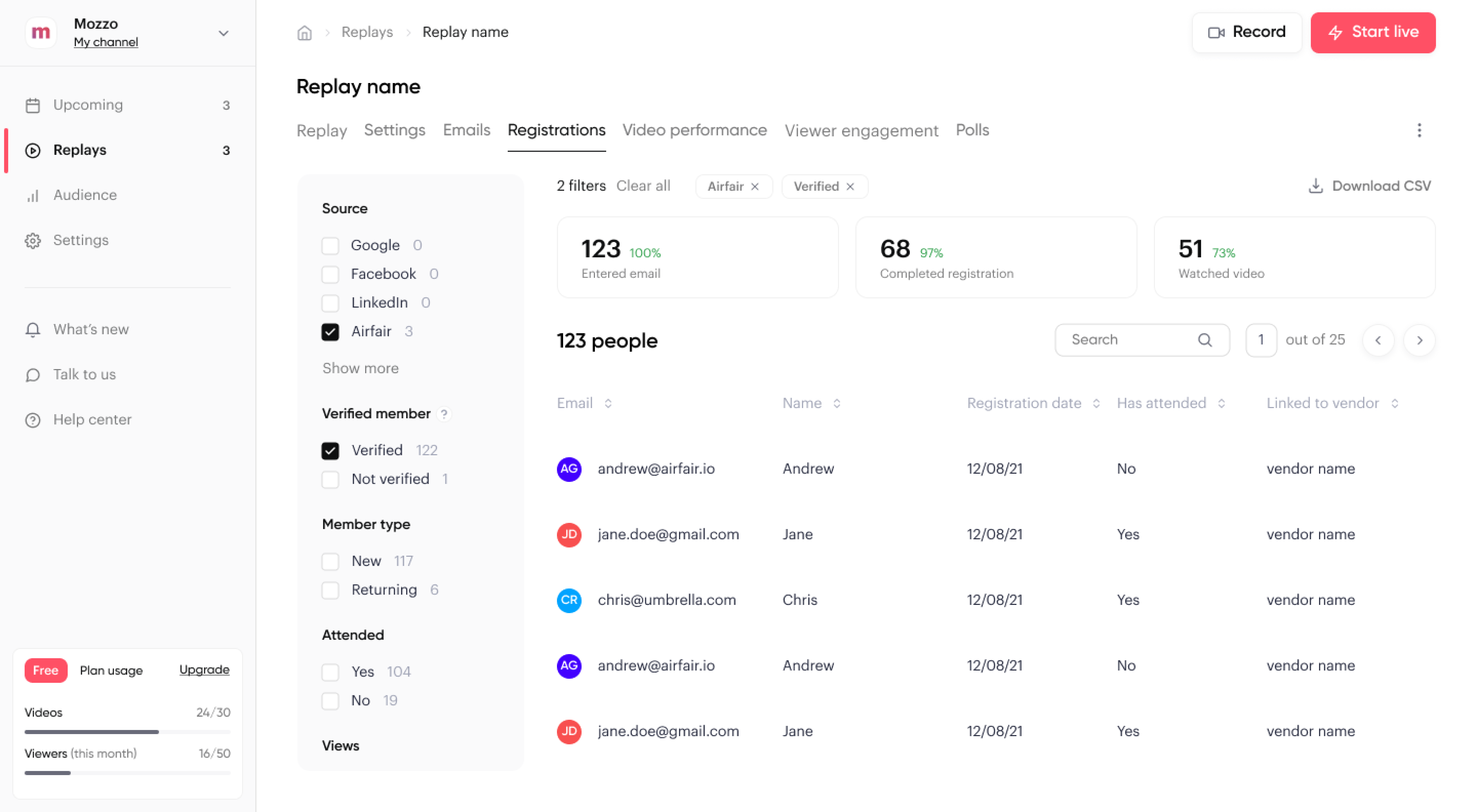 Repurpose the webinar: Don't let all of that valuable content go to waste. After your webinar you can use our free webinar studio to edit and repurpose your content into clips that you can use across social media, your website and other marketing channels.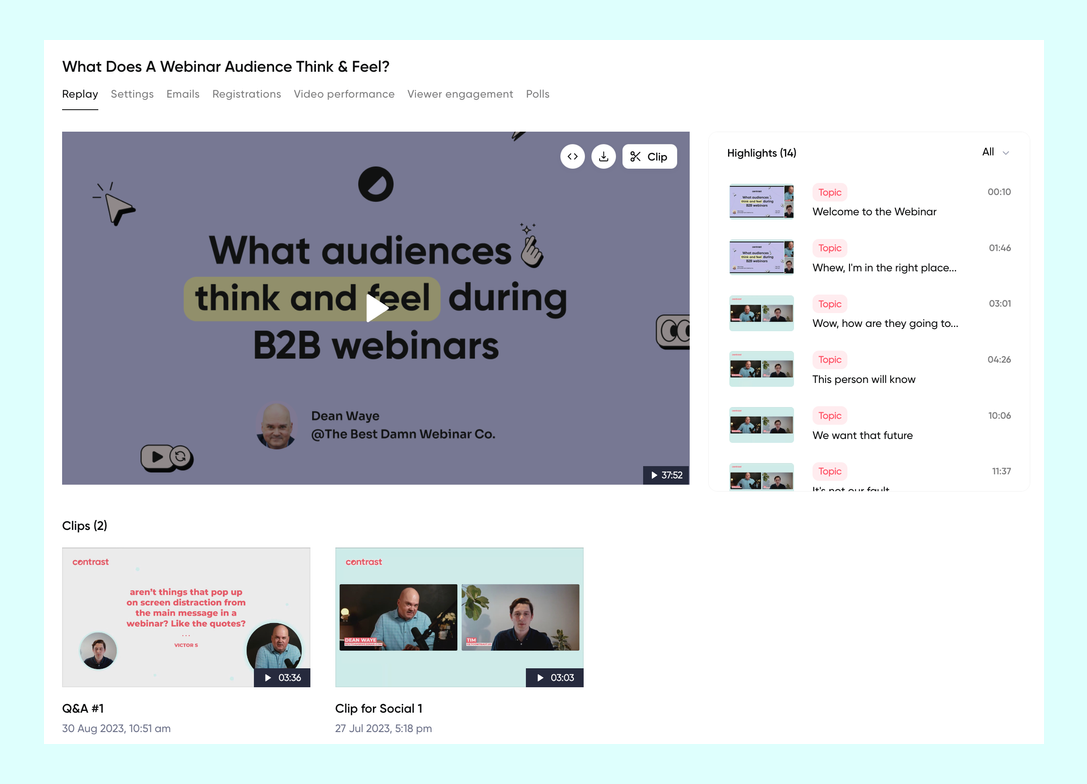 FAQ
1. How does a webinar funnel differ from a landing page?
The landing page or registration page is one part of your overall webinar funnel. It's designed to inform audiences about your webinar and collect their information. A funnel is a multi-step process that includes a landing page, and your promotional content like blogs, social media posts, email invites, the webinar itself, and any post-webinar collateral.
2. What kind of content works best for webinar funnels?
Most marketers use some mixture of the following in their webinar funnel:
Blogs
Case studies
Testimonials
Targeted emails
Social media posts
Repurposed content
That doesn't mean you should just do what everyone else does though. Use your creativity to explore other content possibilities.
3. What metrics should I use to measure the success of my webinar funnel?
Measure your webinar's success to improve for next time. Ultimately, your most important key performance indicator (KPI) will be determined by the goal that you set when building your webinar funnel strategy. Here are some KPIs you can use to evaluate success:
Number of Registrations (Lead Generation)
Source of Webinar Registrations
Landing Page to Registrant Conversion Rate
Attendance Rate
Attendee drop-out ratio
Watch Time
Attendee Engagement
Conversion & Sales
Live vs On-demand views
Webinar Cost
ROI
Implementing Your Webinar Funnel Strategy
Webinar funnels transform awareness into action. They build strong relationships with potential customers by offering real value. Having the right tool in place makes it easy to build a high-performing webinar funnel. That's why we built Contrast. You can try all the features and techniques we've discussed in this article by signing up for a free account today.